Kids Classes -
Anti Bullying Program
STOP BULLYING:  How our Academy can help your child…..
We understand how hard it is to raise children these days. The worries parents can have for their kids are both serious and startling – being bullied by other kids at school, peer pressure to try drugs and alcohol, sexual predators and the adult images in both the popular media and online.
Children today have to deal with challenges that are overwhelming. Sadly, it is nearly impossible to shield your children from these ever-present negative influences, but, there is something you can do to help them deal with the many challenges they face.
Many parents have already discovered that martial arts training is one of the most beneficial activities in which your child can participate. A martial arts school is a place where a child can learn self-control, respect, and get in shape, all in a safe and fun environment.
By enrolling your child in our martial arts classes, you'll be helping them learn how to make positive choices. Plus, you'll be giving them a safe place where they can develop the confidence to do what is right.
What is bullying?  Bullying is a much bigger problem than most parents realize.  10% of school aged children experience bullying on a regular basis.  46% of male children and 26% of female children in their teens admitted to being bullied at some point in their lives.  Victims experienced
low self esteem, depression, decline in grades, feelings of being ostracized, and suicidal thoughts.
Bulling can take place in a variety of ways from social media, texting, tripping, spitting, etc.  The psychological damage can be far worse than physical damage and can literally last a lifetime.
Bullying is an extreme form of teasing that can affect a child for life.  True martial arts training can give your child the ability to defend themselves both physically and mentally by forming a barrier that can only be accomplished through a sense of self-worth and self-confidence.  After training in the arts, your child will shed their attitude of being an easy target and exude a sense of awareness that can't be penetrated by teasing and taunts.
Make an appointment to come and watch a class with your child.  You'll immediately be able to tell if our program is the right fit for them. Contact us today to get your child started on the path to success.  Ask us about our current special offers.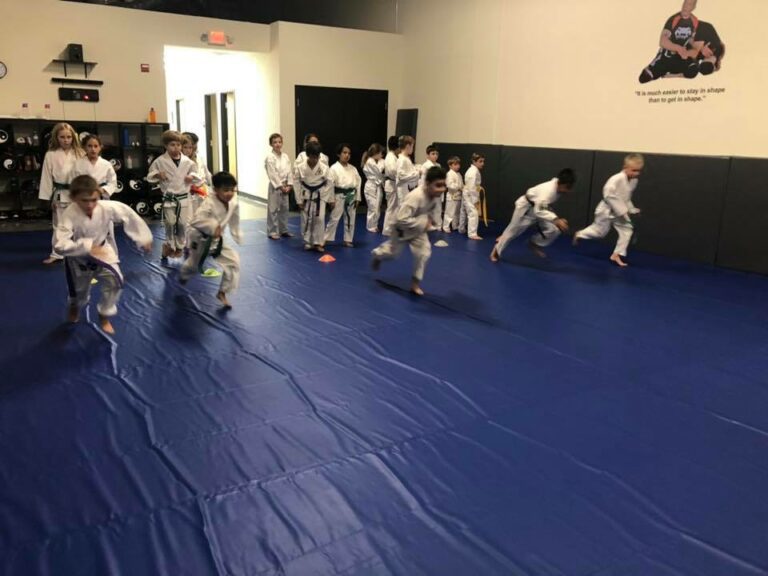 These are just some of the benefits that your child will receive from martial arts training:

Builds Confidence
Children will develop confidence in their ability to handle life's challenges and learn to say "No" to negative influences.
Increases Focus
We will help your child increase their focus by giving them clear goals and showing them how to reach those goals through hard work and being consistent.
Develops Self Control
Kids learn self-control in the martial arts by learning how important it is to have respect, both for themselves and for others. They learn to manage both their body and emotions, improving both maturity and self-control.
Instills Discipline
Discipline is "doing what you must do, when you have to do it, whether you feel like it or not." Discipline is desperately needed in all areas of life at all ages, from grade school student to adult. The demanding exercises of martial arts training will give your child a vehicle to develop this crucial life skill.
Cultivates Courage
Life can be difficult, and is quite a struggle at times. The person who is used to overcoming obstacles and has acquired the habit of facing challenges is the one who is more likely to succeed. Our children's martial arts program will your child to overcome life's difficulties with a positive outlook and self assurance.